Forts & Palaces Program
DAY 01 ARRIVE DELHI
Assistance on arrival at Delhi International airport followed by transfer to the hotel. Upon arrival check in to the hotel. Overnight at the Hotel.

DAY 02 DELHI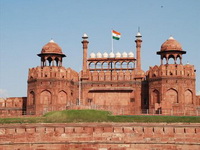 After breakfast, tour briefing by India Insight staff followed by full day city tour of Old & New Delhi. In addition to its Historic interest and role as the Government center, Delhi is a major travel gateway. It is one of India's busiest entrance points for overseas airlines, the hub of the North Indian travel network and a stop on the overland route across Asia. Places to visit are: Red Fort (Remains closed on Monday), Jama Masjid, Raj Ghat, Qutub Minar, Jama Masjid, Humanyun's Tomb, Drive past the Government building lining the Janpath Overnight at the Hotel.

DAY 03 DELHI / SIKANDRA / AGRA
DISTANCE: 223 KMS DRIVING TIME: 05 HRS 30 MINUTES
After breakfast drive to Agra. Enroute Visti Sikandra. After visit continue drive to Agra. On arrival check into hotel & visit the rest of the places. The Red Fort , The Itmad-ul-daulah. After visit return back to hotel for Overnight. Overnight at the Hotel.

DAY 04 AGRA / FATEHPUR SIKRI / JAIPUR AGRA / FATEHPUR SIKRI
DISTANCE: - 205 KMS DRIVING TIME: - 04 HRS 40 MINS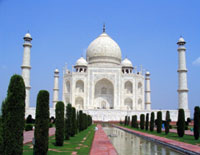 FATEHPUR SIKRI / JAIPUR DISTANCE: - 202KMS DRIVING TIME: - 03 HRS 32MINS
Early morning visit of the monument of Love – Taj Mahal (TAJ MAHAL - REMAINS CLOSED ON EVERY FRIDAY) After visit return back to the hotel for breakfast. After breakfast drive to Jaipur. Enroute visit of Fatehpur Sikri – also known as the ghost city. After visit continue your drive to Jaipur. Upon arrival check in to the hotel. Overnight at the Hotel.

DAY 05 JAIPUR
Jaipur the capital of Rajasthan still looks cradled and well protected. Jaipur takes its name from maharaja jai Singh, who in the early 1700s became the king of amber at the age of 13. He soon added architect and astronomy to his credentials. He designed the bulk of his new capital, with its exquisite buildings of rose colored terra cotta, thus giving it the name of "the pink city" with pink and orange the dominant colors, the effect is magic at dusk. After breakfast drive to amber fort. Enjoy an elephant ride while going up the fort. In the afternoon, have a half day city tour of Jaipur. Places to visit include: City Palace, Jantar Mantar, Hawa Mahal (From out side only) Overnight at the Hotel.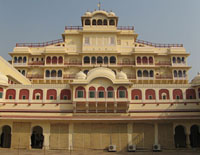 DAY 06 JAIPUR / KHIMSAR
DISTANCE: 287 KMS DRIVING TIME: 06 HRS
After breakfast commence drive to Khimsar through the heart of Rajasthan. Khimsar is a magnificent fort built by the Ranas of Mewar. On arrival check in to fort. Late afternoon is spent exploring the fort and the villages around in the area, which give a very different vision. Evening walk around the small village to see the rural life. Overnight at the fort.

DAY 07 KHIMSAR / JODHPUR
DISTANCE: - 90 KMS. DRIVING TIME: - APPRX. 01 HR 30 MINS
After breakfast check out & start drive to Jodhpur. Jodhpur, once the capital of the state Marwar & is built tumbling down a low sandstone hill, right on the edge of the great Thar Desert. On arrival check into hotel. Evening visit the local markets. Overnight at the Hotel.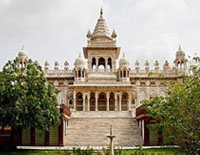 DAY 08 JODHPUR
After breakfast half day city tour of Jodhpur. Places to visit are Mehrangarh Fort, Jaswant Thada, Ummaid Bhawan Palace After visit return back to hotel & overnight at hotel.

DAY 09 JODHPUR / RANAKPUR / UDAIPUR
DISTANCE: JODHPUR / RANAKPUR: 175 KMS DRIVING TIME: 04 HRS.
RANAKPUR / UDAIPUR: 87 KMS DRIVING TIME: 02 HRS 30 MINS
After breakfast drive to Udaipur. Enroute visit of Ranakpur - At the noon time visit these temples. It is famous for Jain Temples at Ranakpur. These temples are dedicated to Adinath and date back to the beginning of 15th century…Made up of 29 halls supported by 200 different pillars, this temple has 20 domes which constitute the complex roofing. After visit drive to Udaipur. Upon arrival check in to the hotel. Overnight at the Hotel.

DAY 10 UDAIPUR
After breakfast, half day city tour. Places of visits include The Maharana's City Palace standing on the edge of the lake Pichola. The Maharana's City Palace standing on the edge of the lake Pichola. The Sahelion ki Bari is a good example of the art of landscaping. Afternoon enjoy the boat ride on lake Pichola on seat basis. Overnight at the Hotel.

DAY 11 UDAIPUR / DELHI DEPARTURE (FLIGHT)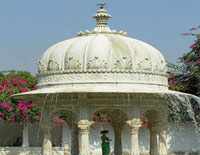 After breakfast in time assisted departure transfer to airport for your flight to Delhi. In Delhi on arrival you will be provided assistance at the airport followed by transfer to hotel to relax. (Room till departure) Later in the evening you will be provided in time departure transfer to international airport for your onward flight

DAY 12 DELHI DEPARTURE